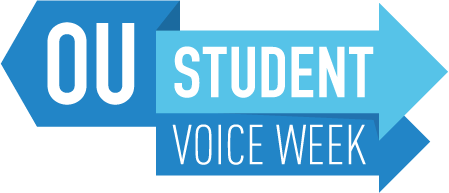 This year the #OUStudentVoiceWeek ran between Saturday 13 and Sunday 21 November 2020. Sessions were developed by staff and students right across The Open University and OU Students Association, all keen to hear the thoughts and opinions of a wide range of OU students.
Student Voice Week is an annual event organised in partnership with the OU Students Association. It is a celebration of all the different ways that students can get involved in Open University decision-making.
A promise was made to make Student Voice Week 2021 bigger and better than ever, and the timetable didn't disappoint. Over 90 sessions were on offer across the week, more than doubling previous efforts and ensuring that there really was something for everyone.
The wide range of sessions included study support, COP26, equality, diversity and inclusion, peer mentoring, personal development, mental health and wellbeing. There was even an opportunity to ask the Vice-Chancellor of The Open University and other senior staff a question at this year's 'Meet the Senior Team' Q&A.
These are just a few examples from a packed week of activity. The full timetable is still available to view.
The OU and OU Students Association are really grateful to all students who took time out of their busy schedules to share their views and ideas. These will now inform actions to improve the student experience. Watch this space for news of the difference students are making to the OU experience with the aim of supporting more students to meet their study goals!