What a week for Student Voice!
What an amazing week! This year, Student Voice Week delivered a series of themed activities giving you the opportunity to feedback on issues that affect your personal learning journeys.
We worked with our wonderful Student Voice Week student ambassadors to plan the week and create the framework of activities. Themes included sustainability; wellbeing; learning experience; equality, diversity and inclusion; careers and employability; plus the much loved community aspect of the week.
Over 3,000 students signed up we had 11,000 session registrations across nearly 40 activities, as well as encouraging you to participate in our social media polls. The sessions were incredibly rich and diverse because of your input, providing feedback that is now being put to good use in improving the student experience.
With a range of activities from across our nations, faculties and student services, we were delighted to get such positive feedback from students in response to your participation. Attendees rated the activities 4.6/ 5 overall and 86% students saying they would definitely take part in Student Voice activities in the future.
Session organisers found your contributions really useful as we seek to continuously improve the student experience at the OU; and we loved listening to the beating heart of the OU – YOU!
Some great comments we heard from you include: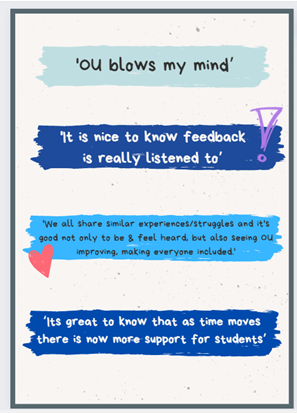 We hope you found the floor during Student Voice Week and made it yours. If you have any feedback or ideas for next year, please do complete the feedback form.