Jodie's Story
The shadowing experience has filled me with hope that a more inclusive educational future is upon us...
...so said Jodie Schuster who joined the Learning & Teaching Development (LTD) Team for a day in July.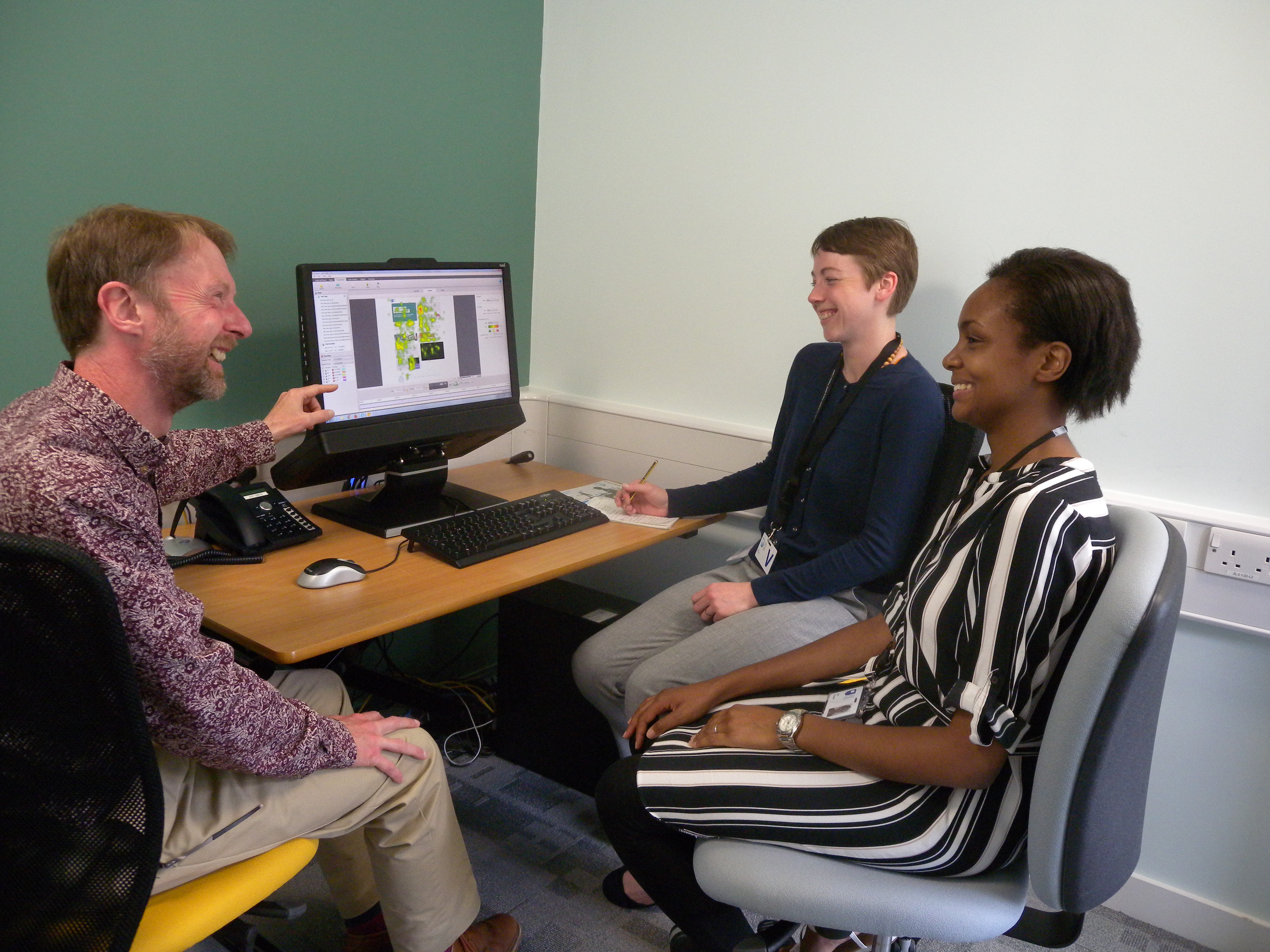 After sharing our work with this enthusiastic and energetic visionary it was impossible for us not to feel the same. For the LTD Team, meeting a student in person proved, as always, inspiring, invigorating and refreshing.
Studying for a Masters in Education (inclusive practice), Jodie's aims for the student shadowing included seeing how the OU practises inclusion, incorporates the student voice and supports students from widening participation backgrounds. She wanted to learn how the OU understands the needs of learners and sets out to meet those needs through research, course development and evaluation. Hopefully there might also be a chance to develop her own study and get a feel for a career in educational research.
We provided an overview of the Learning & Teaching Development Team and its current work. We then invited Jodie to dip into meetings on research projects, quality enhancement and inclusion. There was a tour of the Jennie Lee Research Laboratories looking at assistive technologies and the accessibility testing around them. Educational Technology Developers explained their online work and there were discussions with academics in her field. Jodie described these last as 'fascinating discussions on linguistics and cultures, disabilities and diagnosis, labelling, empathy, action research and access'. She told us how impressed she was, not just with the content but with the attitude and actions, towards encouraging practitioners to engage in their own educational development.
There was also a chance for Jodie to think about her own research preferences. In her feedback, she said these 'opportunities to explore multiple expressions of research currently undertaken … expanded my knowledge of modes of research which I was not aware of' and she had 'gained an appreciation of the different areas of research and how these all contribute to developing practice to benefit all students'.
I felt valued, listened to and respected from all involved in the shadowing experience
For the LTD team, the student shadowing experience was highly motivating, particularly hearing Jodie's experience of being the first in her family to attend university, and how studying is developing her career. The quotes here are taken from feedback Jodie drafted on her train journey home, an article she wrote for the OUSA magazine and an online post on her module forum. Knowing that the day had made such a difference to Jodie and opened up new possibilities for her was immensely rewarding for all involved. Jodie told us: 'I learnt by witnessing, participating and asking questions that accessibility, usability and inclusion were clearly valued and fully incorporated within the culture and practices of the Open University.' Her warm appreciation for our efforts to promote inclusion and accessibility was a reminder that we can and do have an impact, even if we sometimes feel as though we work in isolation.
In conclusion, Jodie wrote, 'I felt valued, listened to and respected from all involved in the shadowing experience.' Jodie's appetite for learning, her commitment and resilience, made a deep impression on us all. Hearing some of the challenges and discouragements she has experienced in education, both as a student and a teacher, spurs us on to ask: what more can we do as a university to support students facing such barriers?
The Learning & Teaching Development Team